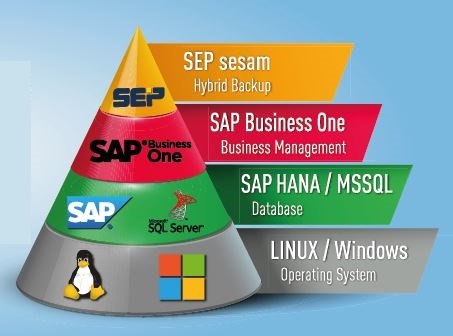 If you have been looking for a reliable backup and recovery solution for your IT infrastructure, here is a good news for you! SEP sesam, a hybrid backup solution from SEP, has arrived to take away all your backup and recovery woes.
Specially designed for small and medium sized enterprises and heterogeneous environments, the solution aims to eliminate downtime, protect data, and provide near-zero recovery time objectives (RTOs) and recovery point objectives (RPOs).
SEP sesam Striking Features:
SAP Certified Integration with SAP HANA
Point in Time Recovery
Support of Multi-Tenancy-Architectures
Easy set-up
24×7 Support
Lightning Fast Recovery
Automatic Media Management
International Quality and Standards
The highly reliable SAP data recovery solution for SAP Business One enables you to protect business continuity by securing your mission-critical data from loss. This hybrid backup and bare metal recovery solution avoids any data loss and recovers the whole sap environment upon being hit by a disaster scenario, ensuring that your data will never be lost no matter what happens!
When compared with the online or tape-based solutions, the SAP backup and data recovery solution is a pure class apart owing to its high end technology to safely store the data and efficiently produce it later as and when required. SEP drives ensure your data is protected and can be restored back again within minutes. With SEP sesame, you can be sure of protecting any type of information 24 hours a day.
Looking for more info, click here