Hands-on Training on the Enterprise Content Management and Team Collaboration tool, Microsoft SharePoint, is yet another of our power-packed offerings for IT professionals. Our Microsoft SharePoint Training Program is a comprehensive package of practical knowledge and guidance for easy sharing and managing of content, applications, and information using MS SharePoint Online. The MS Office 365 SharePoint Online training curriculum includes the SharePoint site administrator training, and comprises of SharePoint development training courses, collaboration training, and SharePoint power user course. Successful completion of the Microsoft SharePoint Training Workshop will make you earn the prestigious Microsoft SharePoint Certification which would validate your capability of working on enterprise content and document management, enterprise search, business process management, and custom web applications among others, using Microsoft SharePoint Online.
Courses
Microsoft SharePoint Online Features
Microsoft SharePoint Online Provides following Features / capabilities –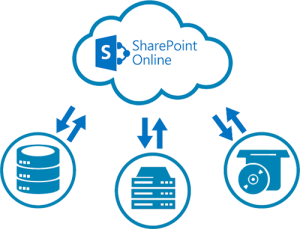 Enterprise Content and Document Management
Intranet and Social Network Portals
Enterprise Search
Business Process Management
Team Collaboration
Custom Web Applications
Business Intelligence
.