For every technical need of yours, 360 Skills is always up and ready. We provide a Tier 3 Network Support to cater to all your IT and technical issues and service requirements. The three levels of categorization offered by us at 360 Skills include Level 1 customer support as the basic support level for logs, categorization, prioritization, incident tracking and alarm reports, Level 2 application support for acting upon the incidents raised by the L1 team, and Level 3 help desk support for resolving difficult incidents by technical experts. Whether the support is required for any basic technical glitches or need involvement of experts and skilled product specialists, our 3 level support system can very well take care of everything aptly and instantaneously.
IT support and resource three level categorization: 
L1 Support:
This is basic/initial level of support where support engineer logs, categorizes, prioritizes, tracks incidents or alarms reported by user or monitoring tools.
L1 engineers generally have 2-5 years relevant experience.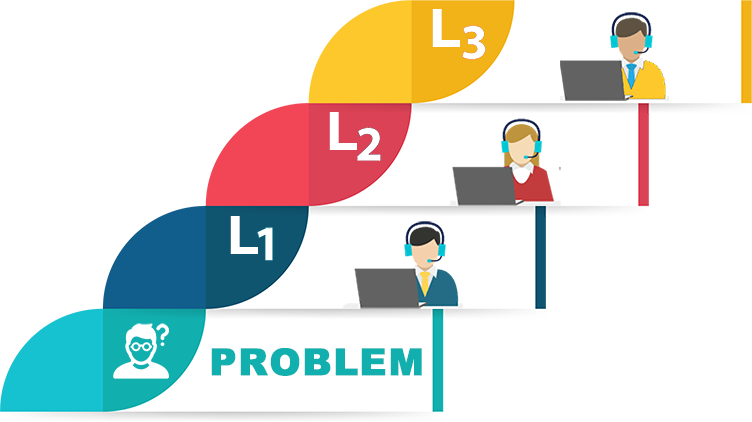 L2 Support:
Engineer manage and act on incidents raised by the L1 Team and follow workflow or Runbook to resolve incidents as per SOP within timeline agreed and documented SLA (Service Level Agreement). And if required escalate the Incident as per Escalation Matrix.
L2 engineers generally have 3-7 years relevant experience.
L3 Support:
Engineers are technical experts resolve issues that are typically difficult and escalated. L3 engineers participate in management, prioritization and product enhancements. They have deep understanding and expertise in
one or two technology platforms. L3 engineers generally have 6-10 years or more relevant experience.
Windows server 2000 - 2016
Linux [RHEL, Suse, UBuntu]
---