360 Skills is proud to present itself as the most reliable and highly preferred service and solution provider for the leading business collaboration app, Microsoft SharePoint. We offer comprehensive and customizable services and support for Microsoft SharePoint that comprise of Microsoft SharePoint implementation, configuration, customization, migration, development, and administration, among others. Our Microsoft SharePoint support services are managed by the best in the industry Microsoft certified experts who have a good hold over the app and are capable of providing instant solutions for the same. To help you learn and understand the app better and to explore its maximum potential, we also conduct Microsoft SharePoint training and adoption Services where you'll receive thorough hands-on experience of working with the app.
SharePoint + Team + Collaborate =  Business Productivity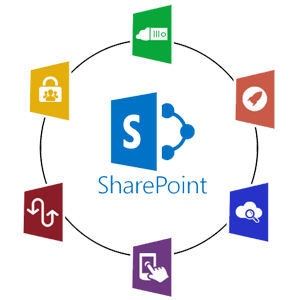 Microsoft SharePoint Provides following Features / capabilities –
Enterprise Content and Document Management
Intranet and Social Network Portals
Enterprise Search
Business Process Management
Team Collaboration
Custom Web Applications
Business Intelligence
Or you can use SharePoint as a Platform and build any app you like.
Services Offered

Services offered:

Implementation – 360 Skills is expert in SharePoint Implementation in both On Premise and Hybrid Scenario.
Migration – We help replacing your existing systems, existing On Premise SharePoint deployments to SharePoint latest version or to the Cloud.
Customization – Each and every project requires customization bused upon business needs as all business processes are unique. We Customize the SharePoint to meet the business requirements.
Portal development – We are expert in quickly creating portals to cater business needs using out of the box features, thru customization and at highest level thru coding.
Integration – See all your data at one location. 360 Skills helps you to integrate your business application using SharePoint as a Platform.
Extending – We help to expand the logic and functionality of SharePoint Server thru development and are expert in this field.
Support – We offer one of the best in class support and assistance at any time to customers through the Internet Portal or Mobile and have dedicated Business Manager who is single point of contact and reachable anytime.
Training – 360 Skills offer best in class profile wise training program  for End Users, Team Leaders, Team Managers, Administrators and Developers thus enabling them get use to the system quickly.
Governance Planning & Development– Availing our services also ensures a proper governance using SharePoint Workflows and Processes.
User Adoption Programs- Special programs and System Design are made according to requirements of clients to cater change management and making staff quickly get use to system.
SharePoint Assessment- 360 Skills offers SharePoint Health Assessment which includes SharePoint Hardware and Software Health Checks in addition to what extent you are getting benefit from the feature rich application. We also provide a roadmap to get maximum out of the SharePoint Application Deployment by providing how further SharePoint can be used to increase business productivity using out of the box, customizations and 360 Skills SharePoint Apps.

Why 360Skills?

Why believe in us?

Experienced staff– Our staff is well experienced in the field and can help you with any work on SharePoint.
Certified Staff– We proudly state that all members of our staff have been Microsoft SharePoint certified.
Microsoft Partner– We are in partnership with Microsoft and assure you that we provide quality Solutions.
Industry Expert– equipped with a specialized staff, we are experts in the field of business applications and project management.
Cost effective solutions– We offer you beneficial cost-effective quality solutions for all your business requirements.